24.11.15
Walking with; Nobody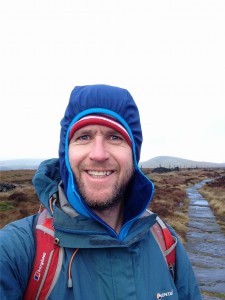 "The Cat and Fiddle" is one of those iconic Peak District pubs perched on the bleak moorland above Macclesfield. It can be a wild spot in the Winter and the road that it sits alongside is usually one of the first closed by snow when it hits this part of the world. It is, however, also an ideal spot to start a walk, and as it sits at the top of the pass, it can handily minimise climbing whilst affording some spectacular views.
I started off from the pub and headed towards Shining Tor, the highest spot in Cheshire at 559 metres. Whilst the cloud was low and the wind was strong, I got occasional patches of blue sky and the odd view of the distinctive profile of Shutlingsloe, otherwise known as "The Cheshire Matterhorn". I followed the ridgeline in the direction of Cats Tor getting well buffeted by the strong winds but enjoying the views across towards the Hope Valley and Kinder which in stark contrast to where I was were bathed in beautiful sunlight. After reaching Cats Tor I had a spot of tarmac walking down the narrow, twisty lane that took me down to Errwood Reservoir on an old Roman Road. The reservoir was built in the Sixties and was a quiet and sheltered spot on a pretty wild day and I sat and had a mince pie and a moment or two of quiet contemplation as the waters lapped gently against the shore.
I left the water and headed back through the woodland and onto the steep path cutting up above Shooter's Clough and back towards the ridgeline. From there it was a relatively straightforward stroll back to the pub and a warm welcome and pint of "Robinson's". It's a great area, not too far off the beaten track but with a real, wild and bleak feel and some spectacular views when the cloud lifts!