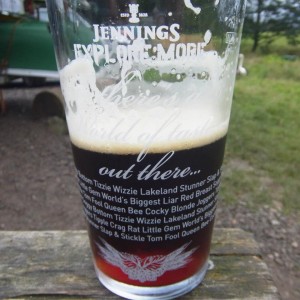 With the massive emphasis on supporting Lake District businesses in the wake of the terrible floods I thought I should do my bit and when I was up in Ambleside a few weeks ago and spread the love to as many Ambleside pubs as possible. Whilst there are a plethora of hostelries in one of the busiest Lakeland towns they are not all created equal and this is my attempt to review the ones that I visited!
I started in "The Ambleside Tavern" which is located towards the top of Compston Road. It's a Thwaites house and so I felt compelled to kick things off with a pint of "Wainwright", well what else are you going to drink in the Lake District? The pub was a little bit dark and gloomy during the day but the beer was good and the staff friendly. I next moved on to "The Golden Rule" which is located on Smithy Brow just down from The Struggle. Conventional wisdom has suggested that this is the most traditional and walker friendly pub in Ambleside and it's certainly a good one. It's owned by "Robinson's" a brewery I have become fonder of as time has gone on. It's a multi-roomed old fashioned style of pub with no piped music and a friendly crowd. There is a real fire and "The Unicorn" was a very decent pint. It doesn't do meals but there is a selection of snacks and the atmosphere makes it a very agreeable place to wile away an hour or two, however I was duty bound to try and spread my tourist pound over as wide an area as possible….so it was out into the night and on to "The Unicorn". This little beauty is tucked away on North Street just above Rattling Gill and was my favourite of the evening. Another "Robinson's" House, this time I went for the "Dizzy Blonde" and a bag of peanuts. The pub was busy with locals and the welcome was the warmest of the night. The pub is decorated with photos and is Ambleside's oldest pub (reputed to be over 600 years old). This is exactly the kind of pub I would like as my local. I didn't eat here but the food I saw being served looked hearty and impressive. I did eat in "The White Lion" and ended up wishing I'd eaten elsewhere. This huge pub/hotel dominates the centre of Ambleside sitting in the Market Place and is bright and airy with a huge dining area and a roaring log fire. The beer selection was really good and I had a Reindeer themed Christmas beer who's name sadly escapes me….the selection was excellent. The food was below par however, there was a two course deal but the nachos looked as if they'd been assembled by a drunken student and the fish and chips was a meagre portion, although it tasted ok. The staff here were lovely! My final stop for this particular evening was "The Royal Oak" on Main Street. It's an attractive building owned by "John Barras" and another one with a welcoming but strongly local feel. I finished the night here with a couple of pints of "Black Sheep" and some friendly conversation in the long narrow bar area. From there it was a slightly wobbly wander back to the YHA.
On other occasions I have visited "Churchill's". It has the feel of a Yates's wine lodge and was a bit on the bright and loud side, they did serve real ale though and it was a good venue to watch the sports. "The Waterhead Inn" was sadly still closed after the floods. Should it reopen it is an excellent spot to sit in the beer garden on a sunny afternoon. And, finally, of course, if you have a car or strong legs there is "The Kirkstone Pass Inn" sitting in the shadow of Red Screes. It's a great pub, an old fashioned packhorse inn with plenty of memorabilia, warming hearths and, on my last visit, a very fine dark own brand beer. It also has exceptional views towards Ambleside although on my last visit all I could see was swirling snow and low cloud.
A bit of a mixed bag overall but there is probably something for everyone. My favourites are "The Unicorn", "The Kirkstone Pass Inn" and "The Golden Rule" in that order, but I didn't have a bad pint all night. It was noticeable that although there were plenty of locals out enjoying a beer and conversation there was a marked lack of visitors, so get up to the Lakes and get spending…..