23.1.16
Walking with; Ruthy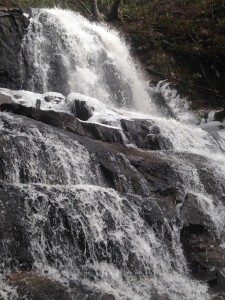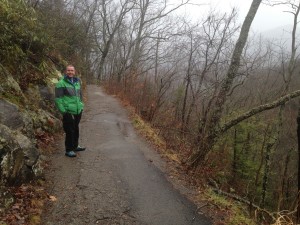 The Great Smoky Mountains are one of the most popular National Parks in the United States and justifiably so, however we had the misfortune to be visiting the weekend that "Snowmageddon" had been forecast for the entire Eastern side of the USA. The weather was already pretty harsh when we arrived and temperatures during our stay in Nashville had dropped as low as minus 13 so we'd decided that any walking we were going to be doing would be on the short and sweet side!
Laurel Falls is one of the better known trails in the Smokies and is part of a longer walk that leads to the summit of Cove Mountain. It's bear country, but, and I am not sure whether I was relieved or disappointed, at this time of year they were hibernating and as the sleet and cold rain started to fall I wasn't sure that I blamed them at all. The path was tarmac but quite heavily eroded and it wound it's way up the heavily forested slopes before turning a corner and opening out to show some great views of the peaks in their eponymous smoky haze. The narrow path skirted along the edge of a vertiginous drop before dropping sharply down to where the Little River tumbles down into the steep sided ravine and creates Laurel Falls which fall 25 metres to the valley floor. The falls are named for the thick stands of Laurel which dominate the foliage in the Spring and Summer months.
We made our way back following the path in the opposite direction and on arriving back at the car, and ignoring the temptation of a signpost pointing towards the Appalachian Trail, continued onto Gatlinberg and a warming bowl of mushroom and barley soup.