Full album on Facebook
30.5.16
Travelling with; Vidhey and Shipra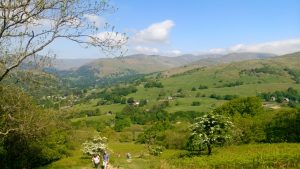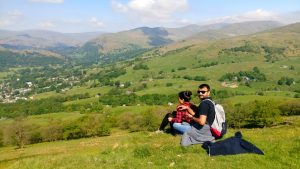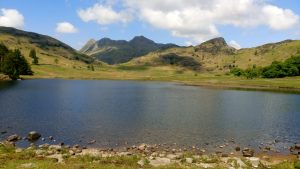 I was sitting outside "The Trout Inn" in Lechlade ahead of a weekend of D of E-ing when I received a phone call asking if I had any last minute availability for a day tour of the Lake District for a young Indian couple holidaying in Britain! Luckily, I had the Bank Holiday off and so was able to organise a schedule showcasing some of the best of the Southern Lakes….and the sun even shone!!
The journey up was brilliant, no works traffic and it was a bit early for most of the tourists and we rolled into Windermere about 9 o'clock where we had a photo stop and I explained a bit about the National park. The guys were keen to do some walking so we headed onto Ambleside and made our way through the woodland fragrant with Wild Garlic until we reached Stock Ghyll Force. Whilst there hasn't been a great deal of rain recently, the falls were still looking good and after admiring them and making the most of the shade we continued to climb to the foot of Wansfell Pike. The path up to the summit was busy with people sweating their way upwards under a hot sun. We reached about half way before stopping for a spot of sunbathing and admiring the magnificent views, deciding that that was enough ascent we made our way back into Ambleside and then moved onto Langdale.
Langdale is always a visitor favourite, as the roads narrow and the views expand I can always tell by the expression on people's faces how blown away they are! The Pikes looked beautiful, there were lambs and Herdwicks in the fields and, although we didn't stop, the pubs were heaving. We made our way on to Blea Tarn, one of my favourite spots in the area and, even on a Bank Holiday, not too busy. After spending half an hour or so, wandering, taking photos, watching fish fry in the shallows and enjoying the views of the Pikes we headed onto Chapel Stile Co-op for lunch. I dropped the guys in Elterwater and drove down to Skelwith Bridge where I managed to find a parking spot before walking back along the beck to meet up on the edge of the lake where we admired a final view of the other side of the Langdale Pikes.
After that it was time to head home. It took some convincing to persuade the guys that blue skies and wall to wall sunshine aren't always the case in the Lakes, but I felt lucky and privileged to have had such a gorgeous day to showcase some of the very best that the Southern Lakes has to offer.