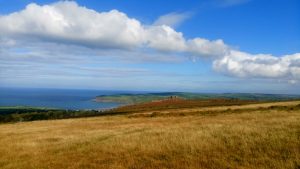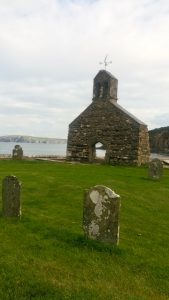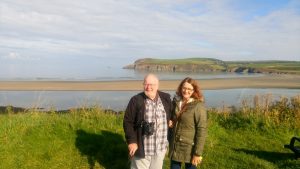 As we come towards the end of our season here at Come walk with me we remain busy and are starting to look ahead to next year. It's been a busy week or two starting with another Entrust Base Camp in Mansfield at Brambles school. In addition to campcraft, firelighting, shelter building and trust games we got to spend a day exploring Oxclose Woods, the highlights being an amazing view of a Buzzard and lots of competitive games of Ninja Squirrels.
After a family wedding it was on to the town of Newport on the stunning Pembrokeshire coast. It's many, many years since I had been to that part of the world on family holidays and I had forgotten how truly stunning it is, without doubt one of the most scenic places I think I have ever visited. Walking with my Dad and Julie, our first day of walking took us from the bay at Parrog and along stunning, vertiginous cliff top paths and through tiny secluded bays until we reached Cwm-yr-Eglwys, a tiny hamlet where the remains of a church sit on the edge of the beach, the rest of it having being washed into the sea during two particularly violent storms, it's an idyllic place. Day two, saw us take the circular path around Dinas Island (not actually an island) for more great coastal views across to Fishguard and Goodwick. It's another great walk that hugs the cliff edge and affords miles of views along the coastline. Dad and Julie left on the Wednesday and I headed up Mynydd Carningli behind Newport to the remains of the huge Iron Age Hillfort that ring the 347m high peak. Below the summit there are remains of an even older settlement, and the moors around the area are ringed with standing stones and other pre-historic monuments. From there, the route continued across wild, windswept moorland across Mynydd Caregog and Mynydd Melyn before dropping down to the end of Dinas Cross and then along the coast and back for a welcome pint at "The Golden Lion".
I spent my last day of walking in Cwm Gwaun, a kind of valley that time forgot where New Year's Day is still celebrated according to the Justinian calendar on January 13th and where the famous Bessie still serves beer by the jug in the eponymous front room pub her family has owned for over 200 years. It was a beautiful walk through leafy Autumnal woodland, along babbling streams and in perfect silence bathed by sunlight, what a beautiful place!
I left Pembrokeshire with a heavy heart and headed North to Llanberis for a great plate of grub at "Pete's Eats" and a wild and windy night in my tent in Nant Peris. I met Hamish and the Three Peaks group from Maximum Adventure at 6am and we were pretty much the first people on Snowdon, our ascent was wet, wild and very windy but all the guys worked really hard and we were up and down the Pyg Track in four and a half hours and a couple of hours later I was steaming clean in a hot bath and reflecting on another great couple of weeks for Come walk with me.