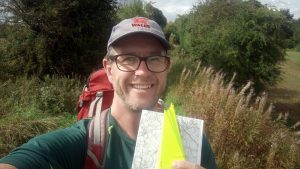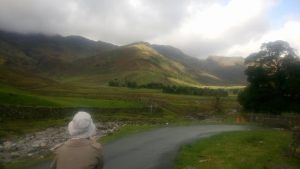 Well, after some well deserved post-Ecuador RNR, things have really picked up again and we have a busy and varied week. It started with a couple of days in the Peak District with Clint and Paul who were visiting from the USA and wanted to do some walking to offset their intake of Steak and Ale Pies and Bakewell Tarts. Whilst we weren't blessed with the greatest weather, these hardy souls kept smiling and showed a commendably positive attitude in the teeth of some serious rain! We started on the Tuesday from Mam Tor and leaving the Iron Age hillfort behind traversed the Great Ridge before dropping down off Lose Hill into Hope where the "Old Hall Tearooms" provided both welcome sustenance and a floor they were willing to let our sodden waterproofs drip upon. We continued along the valley in slightly more clement weather before climbing the broken road back to our start point. Day two saw us starting out from Burbage Edge car park under relatively benign skies…..but it wasn't too last and before long the glorious views we had started with were obscured as the clouds dropped lower and the wind started driving the rain horizontally into our faces, even the Grouse looked slightly disgruntled at this point. We bravely took the collective decision to retreat to the protection of "The Plough" in Hathersage where we put the world to rights over some really excellent lunch….this pub comes highly recommended!
Leaving behind the dark, brooding skies of the Peak District it was down to the Cotswolds to work on "A walk to remember" a fundraiser for The Eve Appeal being organised by the folks at Global Adventure Challenges. There were two options for the participants, a 13 miler and a 26 miler and I spent the Friday afternoon marking out a section of the route and avoiding thunderstorms, lightning strikes and hail, the weather clearly hadn't quite finished with us. The Saturday of the event was a little better and 46 brave souls made their way through the beautiful Cotswolds countryside only occasionally sinking deep into morasses of mud. It was a great event which clearly meant a lot to many of the participants and it was a pleasure to be involved in it!
After a free day enjoying a coffee in Bourton on the Water and an afternoon rummaging through the Roman sights in Cirencester and it's excellent museum it was over to Surrey for a day of shelter building as part of a great Crystal Maze style day out for a group of year 7 students. Tuesday saw a very different day as we took out Beatrice, a professor of poetry who was in the UK to speak at a conference on poetry and philosophy in Oxford. Beatrice's poetry has often been inspired by the works of William Wordsworth and she had asked us to put together an itinerary showcasing some of the natural vistas that had so inspired the great bard of the Lakes! We had a full day taking in Blea Tarn and Langdale, Rydal Mount, Grasmere and Dove Cottage, Skiddaw from Bassenthwaite Lake, Ullswater and Stock Ghyll Force!
It's this sheer variety of people, landscapes, motivations and challenges that makes this job such a joy! It's a couple of days of admin and down time with my Dad before a Yorkshire 3 Peaks with Action for Children on Saturday, an overnight wild camp in Snowdonia next week and then a D of E assessment in the Peaks. Variety is truly the spice of life!