16.9.17
Walking with; Action for Children challenge team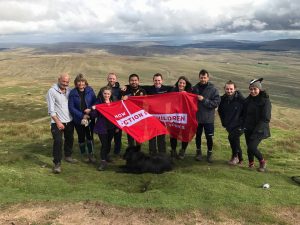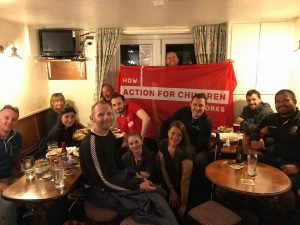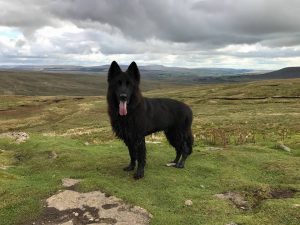 The Yorkshire 3 Peaks is one of my favourite challenge events, it's tough, pretty much the distance of a full marathon, but it's doable and it makes sense as a challenge, it doesn't feel contrived. So when the team from Action for Children contacted me to say that they would like to send a team to undertake the challenge I was delighted to accept.
We set off from Horton-in-Ribblesdale and almost immediately we were on the lower slopes of peak number one, Pen-Y-Ghent, the Welsh sounding name of which is variously translated as "Hill of the winds" or "Hill on the border", both names seem pertinent with this 694m peak being perched alone on the edge of a valley and being buffeted by strong winds which funnel down the valley. For the first time this year we reached the summit under clear blue skies and with great views towards Pendle Hill and onwards towards Whernside and Ingleborough, the next two hills we would take on during the challenge. It was a long old slog through moor and farmland until we reached the spectacularly scenic Ribblehead viaduct. Completed in 1874 this monumental landmark is 400m long and rises 32m above the valley at it's highest point. Leaving the viaduct behind we carried on up Whernside, the highest of the three peaks at 736m and affording fantastic views towards Morecombe Bay, the Lake District and Scotland. The descent down Bruntscar is always a knee cruncher but we managed to pass it, and after stopping for refreshment at the Philpin Farm café we managed to resist the allure of "The Old Hill Inn" and head onward to our third and final peak of the day (and my personal favourite) Ingleborough. It was a very proud moment for the team when they unfurled their charity banner on the summit under a beautiful, full rainbow! It's always feels like a long old descent, the four and a half miles from the top, but we managed to limp, hobble and stride our way down and the refreshments in "The Crown" were well earned by the whole group including our totemic mascot for the day, Max, the German Shepherd!
Charity events are always great to work on but this one was a particular pleasure and I couldn't have asked for a better, more determined and cheerful team to have walked the route with. All this and a good sum of money raised for the valuable work the charity do to help alleviate youth homelessness.