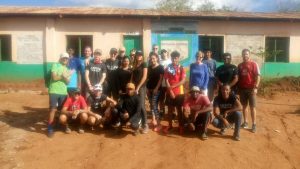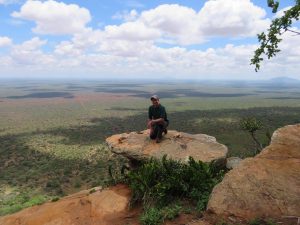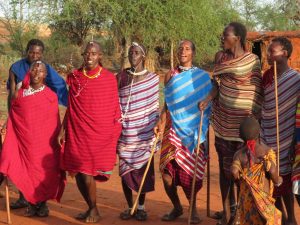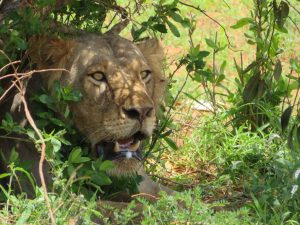 Kenya for me is the quintessential Africa, a land of open savannah, red earth, wild animals and leaping Masai warriors, so when I got the chance to lead an expedition there with Camps International and GIS it was too good a chance to turn down. We comprised a truly international group with team members coming from countries as diverse as The Netherlands, The USA, Egypt, Jamaica, South Africa and Venezuela and we were based in the fantastic Camp Tsavo nestled into the lower slopes of the Marungu Hills with spectacular African vistas from the balcony of our accommodation. The camp was alive with all manor of Centipedes, Lizards, Cicadas and other wee flying beasties which proved a bit of a challenge for some of the youngsters, there were also amazing sculptures of wild animals constructed from the snares that were set by poachers which provided a creative, yet stark, reminder of some of the very real challenges facing both wildlife and people in this part of the world. Over the course of the week we were very well looked after by Stephen, Sammy K and the team and I was lucky enough to catch up with Ya-Ya who I had worked with three years earlier on a Camps expedition to Uganda, he was still wearing the shoes I left him!!
Our activities during the trip started with some volunteer work at the local Itinyi Primary School where the students were involved in digging sand, making bricks, digging foundations and making and pouring concrete. It was a humbling experience looking at the facilities that the nearly 400 pupils have and yet looking at the keenness and willingness to learn of the local kids. One of our highlights were the post-work football matches we had, the first of which was in possibly the most torrential rain I have ever encountered in my life. Whilst I maybe a rugby player at heart, football is undeniably a universal language and the games were an epic part of our trip! Our other work activity was livestock deworming which proved a lot more fun than it sounds. As a group we roamed the local countryside visiting local farms and smallholdings and chasing the goats and cattle around until we caught them and could administer a dose of anti-worm medicine. As well as an obvious benefit to the local community it was genuinely enlightening and eye opening to visit the local homes and see the people on their own land. It wasn't all work though! We had a great day hike in the Marungu Hills including lunch in a cave once used by wildlife poachers and an afternoon session of bush skills incorporating shelter building, bow and arrow firing and trying (largely unsuccessfully) to create fire using traditional methods. We had a safari to Tsavo East National Park where we saw Impalas, Gazelles, Zebra, Giraffes, Dik-Diks, Elephants and the best views of Lions I have ever had in my life! We got to meet the local women's group founded by the redoubtable Mama Mercy who taught us how to make Elephant Poo Paper and bead bracelets and we visited a Masai village where we witnessed the amazing "jumping dances" and had the traditional Masai life explained to us.
It was a fantastic experience with a great group of students and locals and I am very excited that I have been booked to return with another group in March. I love the work I do with Camps International and feel very privileged to do for a job what lots of other people save for many years to do. At the end of this week it's back to Cambodia for the second time this year, on this occasion with a group of young people from Australia. Looking forward to a Christmas in the sun this year!