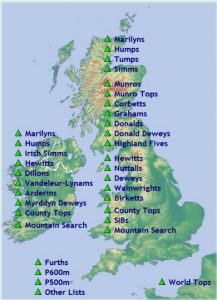 I am a bloke and, therefore, a bit of a collector and a statto. When I was a kid this obsession went through a variety of phases, starting with stamps (my specialties were birds and East Africa reflecting family interests), progressing onto Panini Football stickers and ending with folders full of scores and averages for every competitive match of table tennis or cricket I ever competed in. Even now, in middle age, I have a flat adorned with a large collection of carved model elephants, a fridge covered in magnets from the many destinations I have been fortunate enough to visit and an extensive library of books (sorted by author and category) acquired over the last twenty five years. I can't bear to be parted from any of them. So, it was inevitable that when hill walking became the dominant activity in my professional and personal life that the concept of hill bagging would start to appeal.
It appears that hill walkers love lists and classifications. The website www.hill-bagging.co.uk lists 19,790 hills on their database of British and Irish tops. They are separated into a dizzying variety of lists. There are the well known classifications; the Wainwrights and Munros, but have you heard of the Vandeleur-Lynams, the Humps, the Tumps or the Donald Deweys? It's a world of obsessives collecting, logging and bagging obscure peaks in far flung parts of the country! I have found it very useful in lockdown as a resource to help me explore a much diminished local area. I have found numerous small hills attached to one list or another and have started to use the "bagging" as a reason to plan a route in a new area or area hitherto unexplored. Topping out a new hill and adding it to my list has a certain frission of excitement but, actually, the majority of the time it is the walk that goes with it that has been the most enjoyable aspect of the day. In the past week I have visited Harrock Hill, Ashurst's Beacon and Spitler's Edge (all Tumps "A Tump is a hill in Scotland, England, Wales, the Isle of Man or Channel Islands which is separated from adjacent tops by a height difference of at least 30 metres on all sides. The higher of the Tumps, including all over 500m in height, are included on other lists such as the Simms and Deweys." since you ask), none of which I would probably have visited otherwise and all of which have been part of some beautiful walks. It's become my go-to method of looking for somewhere new and I see no reason to suppose this won't now continue as I start to be able to revisit areas such as the Lakes and Wales that have been terribly missed over the past fourteen months.
Whilst there are many hills and walks that I will happily repeat over and over again, I have lost count of the number of days I have spent on Kinder Scout, and whilst I don't want to diminish the joy of simply going out and walking with no real destination or plan in mind think it is fair to say that the bug has bitten and I will certainly be adding to my list of hills bagged as the great outdoors starts to open up again!