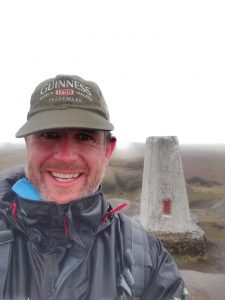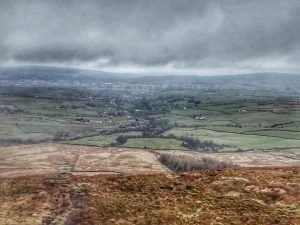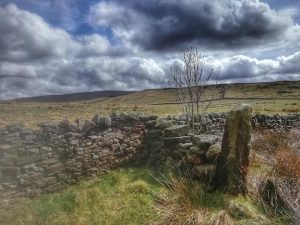 Wycoller is an almost achingly idyllic hamlet situated at what is literally the end of the road around four miles from the town of Colne. It consists of a tiny collection of stone cottages,a hatch serving hot bacon butties, pies and pasties and the ruins of the sixteenth century Wycoller Hall, originally owned by the Hartley family. Wycoller Beck flows past the settlement and is crossed by a variety of ancient bridges and fords, the oldest of which, the Clam Bridge is reckoned by some to be as old as one thousand years. The manor house itself has been suggested as the inspiration for Ferndean Manor in "Jane Eyre" as Charlotte Bronte would have passed through Wycoller on her way to Gawthorpe Hall. I was passing through it on my Lad Law from Wycoller walk.
The Brontes are a feature of this area and leaving the hamlet behind I followed the Bronte Way before turning off along a path flanking the steep sides of Turnhole Clough before cutting through woodland and emerging on the edge of Flake Hill Moor. The wind was blowing pretty hard as I stepped out onto the exposed land cut through by the Pennine Bridleway. It is a bleak area of evocatively named moors; Brink Ends Moor, Stack Hill Moor, Broad Head Moor and Brown Hill Moor. The cries of Curlew sounded on the wind and I watched a Marsh Harrier scudding low over the boggy grassland as I approached the remote Lumb Laithe Farm. As I started the steep climb up the flank of Boulsworth Hill, the wind cranked up another notch and the pitter patter of rain on my coat intensified ,by the time I reached the shelter of Little Chair Stones the cloud had dropped and my gloveless fingers were numbing. A couple more minutes of walking past the aptly named Weather Stones saw me top out Lad Law close to the wind blasted trig before dropping down below the clouds to be greeted with a beautiful view of rolling green fields.
I crossed Will Moor and Deerstone Moor as I made my way to the Coldwell Reservoirs before continuing to the plantations by Little Moss Farm where I found a beautiful glade amongst the trees to enjoy a reviving coffee and a spot of lunch. Little Moss Farm itself appeared to have a sculpture garden in and amongst a series of trees although the land seems to be private but leaving the odd art behind I cut down to the village of Trawden before another mile across farmland took me back to the Wycoller car park under blue skies.