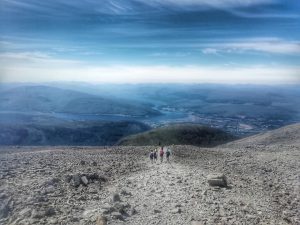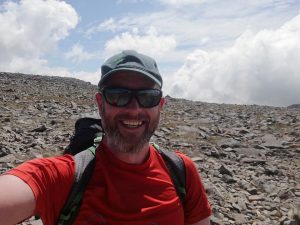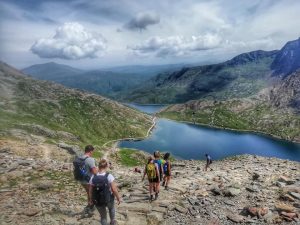 The Three Peaks Challenge is probably one of the best known walking/adventure challenges undertaken regularly in the UK today. For many people it is the ultimate physical mountain challenge and a hugely successful event that raises large amounts of money for many charitable causes. For others it puts huge pressure on the mountains, leads to overcrowding and groups purely focussing on the challenge element with no time to enjoy the landscapes they are passing through. It leads to numerous Mountain Rescue call outs, creates litter in upland environments and brings in very little income to local communities as the groups speed in and out without stopping to contribute to local businesses. It's definitely a tough one and the delicate balance is one of the reasons that we don't run the "24 hour challenge" here at Come walk with me UK. It makes a lot more sense to us to run the event over three days which allows much more time on the mountain, an opportunity to patronise local businesses and leads, in our opinion, to a far more pleasant experience.
Last week we were very fortunate to work with a group of students from Sedbergh School who were undertaking the three peaks in three days challenge as part of the school's broader activity week. We were blessed with unbelievable weather which gave us some stunning views on all three of the peaks, a very unusual scenario. On previous ascents of Ben Nevis, the UK's highest peak, the views had been little more than a few murky figures swimming in and out of the low cloud and mist, not this time……The heat made the climb very tough and there were numerous stops for food and water and splashing cool mountain water across our faces but we doggedly continued onwards buoyed by stunning views and blue skies. After Half Way Lochan it was time for the notorious zig zags and that agonising time when the top never seems to be getting any closer but the team persevered and suddenly we were scrambling up some slushy snow and the plateau was opening up before us as we made our way to the top. The views were expansive and as Snow Buntings pecked around our feet we watched a rescue helicopter hovering above the CMD Arête and gazed out across a mountainous landscape stretching to the horizon.
I had been on Snowdon on the previous Friday and as a group we had been bombarded by high winds and driving rain, but day two dawned with more blue skies and we set off up the Pyg track with renewed enthusiasm. There were wonderful views down to the lakes below us and above on the ridge of Crib Goch we could pick out the occasional adventurer making their way along the knife edge above us. Snowdon is always a busy mountain but the good weather had bought out even more crowds than usual and the summit was swarming with both humans and midges. Leaving the throng behind on the top we headed down the Miner's Track and after using the cool mountain lake water to help us cool off it was back to Pen Y Pass feeling very pleased with ourselves as we had two mountains safely under our belt.
Peak number three on day number three was Scafell Pike, the highest in England but the lowest of the three, although with some very steep sections. The view from the slopes down Wastwater was once voted the best in England and it truly is spectacular, it helped to distract our tired legs as we continued to slog towards our last summit that swam in and out of the clouds as we ascended. We made it however and were treated to views of great Gable, Styhead Tarn, Kirk Fell and beyond, it was a truly fitting ending to a very tough challenge. The team were fantastic, they really worked hard for one another and showed real determination in some uncommonly hot conditions. After a descent to the National Trust car park it was ice lollies and cold cans of fizz all round to celebrate a successfully completed three peaks!