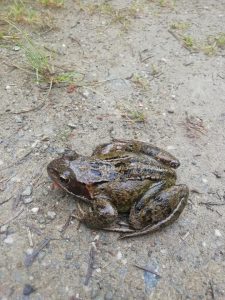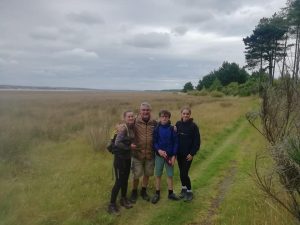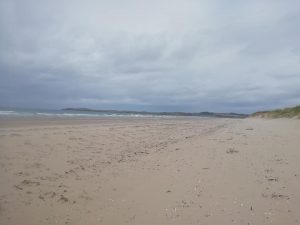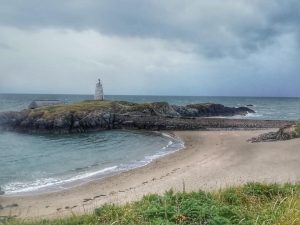 It's a long time since I have visited Anglesey but it will always hold fond memories for me as the place where as a keen amateur photographer of 10 years old I took a photo of Pink Thrift which won me a Highly Commended in the BBC Young Wildlife Photographer of the year 🙂 So, when Simon asked me for a family day out based on the island I leapt at the chance to go exploring Ynys Mon once more.
We met in Mallraeth, on the edge of the estuary which was dotted with Egrets, Oystercatchers and Curlew exploring the edges of the channel looking for food, and then crossed the long sea defence known as "The Cob" which was built in the nineteenth century to allow land reclamation. The marshy area around the estuary is a SSSI and the noted ornithological painter, Charles Tunnicliffe, lived and painted in the area for many years. After crossing "The Cob" we arrived at Newborough Forest, part of a huge area of sand dunes and Corsican Pine woodland originally planted in the fifties and sixties. Whilst we were unfortunate in not spotting any of the resident Red Squirrels the wildflowers were beautiful and there were butterflies including the Common Blues braving the increasingly inclement conditions. We had made it as far Malltraeth beach before the clouds that had been hovering over the Llyn Peninsula started moving ominously in our direction, but not before we got to enjoy the enormous expanse of sand to ourselves…..a really magic moment!!
We left the beach behind and picked our way through the rockpools and past the formations of pillow lava onto Ynys Llandwyn, the tiny island/peninsula which became a place of pilgrimage associated with Saint Dwynwen, the patron saint of lovers who set up a religious retreat on the island after having her heart broken. Until the dissolution of the monasteries the church was one of the richest in Wales but now the romantic ruins are dotted amongst the sand dunes and look out on the two lighthouses that helped ships negotiate the notorious straits of the Anglesey coast. The rain hit us hard there and sent us scurrying along the beach before ducking back into the cover of the Pines. As the views of distant Snowdonia swam in and out of the clouds and we watched the hardy, semi-wild ponies grazing in the distance the rain continued to fall but we carried on through the trees spirits undaunted until we made it back to Mallraeth. The guys did a fantastic job in challenging conditions and I was very happy to be reminded just how spectacular this part of the Welsh coast can be. It is even more exciting as it's now less than a month til I start the Land of my Fathers challenge where I will be attempting to walk the entire boundary of Wales and so will be following much of the walk we undertook together in mid-September.