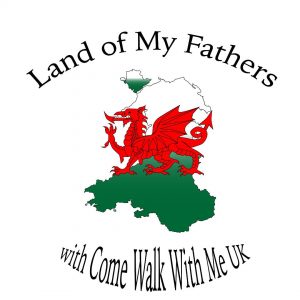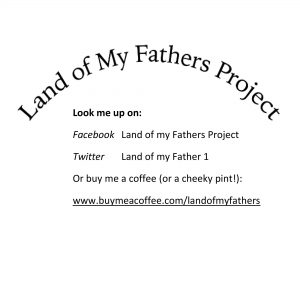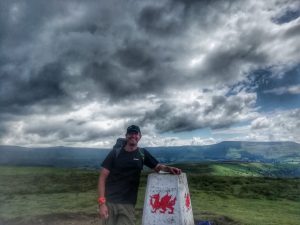 On August 31st I am going to walk the very short distance from Sedbury Cliffs, on the banks of the River Severn, into Chepstow accompanied (if all goes to plan) by my Dad and Thalia. This walk of around two miles will set me off on the Offa's Dyke Path and will be the first steps in a planned journey of around 1050 miles around the boundaries of Wales, a distance greater than that from Land's End to John O'Groats. The plan is to head North along Offa's Dyke, , the ancient earthworks that roughly follows the modern day border between England and Wales, until I reach Prestatyn on the North coast. A train to Chester will then take me to the start of the Wales Coastal Path and from there it will be a case of keeping the sea on my right hand side for something in the region of nine hundred miles…….At this stage, a couple of weeks before setting off, it's safe to say I am excited and terrified in equal measure.
So why Wales? And why Land of my Fathers? Well, the magnificent Welsh National Anthem "Hen Wlad Fy Nnadau", the singing of which sends shivers down my spine at every rugby international, translates as "Land of my Fathers" and it's a literal truth. Since retiring my Dad has been studying the genealogy of the Howells family and it's roots in Wales. For many years that family has been settled in Abercynon and the surrounding areas of South Wales and many of my Dad's relatives were colliers in the mines that operated for decades in that area, but he has discovered that our roots go back to Pembrokeshire in the eighteenth century and, no doubt, much further back than that. On my Mum's side, for many years my Grandparents lived in the beautiful town of Crickhowell in the Brecon Beacons and my Aunt, Jane Hutt, has been a member of the Welsh Assembly or Senedd for many years. My Great Grandfather the Reverend Newton Jones was a Church of Wales vicar, so the branches of my family tree run in many directions but always end up back in Wales. I have always felt a connection with Cymru and it's importance to my family cannot be overstated and so the nucleus of an idea was formed and the disruption of Covid provided the impetus to get out there and take on this challenge.
I hope that the walk will allow me to explore and connect with the landscape, culture and people of Wales. I hope it will make me feel closer to the country and learn more about it in both contemporary and historical contexts. I hope to raise a little money for charities that are important to me, I hope to build new friendships and cement existing ones and I hope to learn a lot about myself, my resilience, adaptability and character. I am blessed and proud to have the father that I have, he is a person who has loved me unconditionally and trusted and valued my life choices, he is proud of Wales and his Welshness and I am proud to be undertaking this adventure in and around the land of my fathers.
Below are some of the links I will use to keep you up to date with my progress. Please like, follow or donate. Thank www.facebook.com/landofmyfathersproject
www.twitter.com/Landofmyfather1
www.buymeacoffee.com/landofmyfathers
www.justgiving.com/crowdfunding/landofmyfathersproject