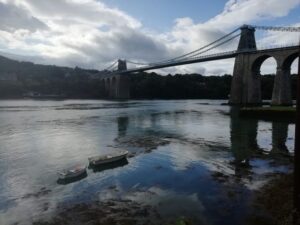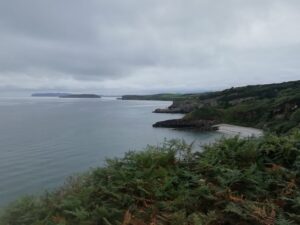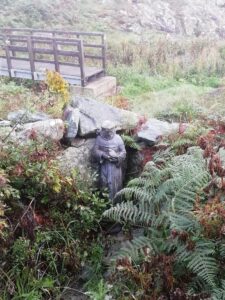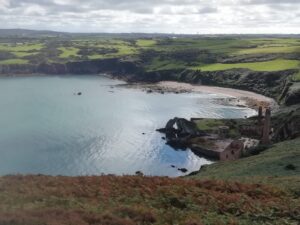 Leg three of the Land of My Fathers project was the Anglesey Coastal Path, a long distance path in it's own right that covers 130 miles of mostly coastal walking. I have to confess to having visited Anglesey very rarely in spite of it's proximity to Manchester with my visits being restricted to a few visits to the RSPB reserve at South Stack and a day of work at Newborough forest, so it was a section of the walk that I was eagerly anticipating!
My Anglesey adventure started on the other side of the Manai Strait as I left Bangor walking out through the University buildings towards the spectacular suspension bridge designed by Thomas Telford, an industrial architect whose work I would keep coming across on the walk. Menai Bridge and Beaumaris were two attractive towns on this part of the walk, the latter dominated by the spectacular castle that sits in it's heart and in who's shadow I ate a delicious lamb and mint pie for my lunch. A stretch of rough pebbly beach walking with spectacular views across to Great Orme and a cloud shrouded Snowdonia saw me pass the ruined Penmon Priory with the nearby church which was home to two thousand year old carved crosses. I continued on to Trwyn Du lighthouse for welcome refreshment before the path cut inland away from the clifftops and I passed along country lanes hearing Welsh spoken for the first time on my walk to my finishing point at the hamlet of Glan Yr Afon. I was joined the next day by my friend Martin whom I have known since we worked together on the BMC Hill Waking Committee. There was plenty of beach walking on this section, a mixture of pebbles and sand and we passed through the settlements of Red Wharf Bay and Benllech stopping at the latter for coffee and a very posh caravan park. A little further on we cut through the pretty town of Moelfre and out past the RNLI station before a path cut inland through farmland to the Pilot Boat Inn and City Dulas where a very welcome pint of Guinness ended the day.
The next morning started misty and soon deteriorated to heavy rain. I squelched around the margins of the estuary before taking shelter in a church porch whilst waiting for the heaviest rain to abate. As the rain eased I carried on and shortly before reaching Point Lynas my eye was caught by a movement just out at sea, I paused and watched as a pod of seven or eight Dolphin made their way sedately along the coast, a beautiful sight and I was transfixed for fifteen minutes or so just watching them. After a coffee at the Sail Loft in Amlwch Port I carried on past the remains of the site of old Copper works before encountering a spectacular reminder of the industrial heritage of this part of the world in Porth Wen brickworks perched on a shelf above an azure sweep of bay. A little further on sat the ruins of the Porth Llanlleiana Porcelain works, all humbling reminders of the tough, industrial life lived on this island in the previous two hundred or so years. I eventually made it across to Cemaes where I dropped in above the bay and was collected by my mate Vic who shuttled me back to my car before joining me for a pint in Moelfre. Such kindnesses were fundamental to the success of my walk and cannot be underestimated.
The stretch from Cemaes to Llanfachraeth was one of those days that just seemed to drag on for ever. It started by navigating my way around the vast hulk of the decommissioned Wylfa nuclear power station. With my Grandfather's history in the nuclear industry this was a slightly poignant moment even if the heavy industry does scar the beauty of the coast somewhat. Further on was the impressive shingle spit of Cemlyn Bay although I was too late for the nesting Terns and Plovers it was still a spectacular bit of coast and there were a few hardy swimmers braving the chilly waters. Church Bay was a beautiful little settlement but a huge disappointment with the pub and cafe closed, no drinking water available and disgusting toilets. I was joined by sixty or seventy other tourists all of us milling around in slight disbelief. I think my disappointment coloured my mood for the rest of the day and the long, slog across the salt marsh back to Llanfachraeth was a little depressing in spite of the Greenshanks and Egrets picking their way along the estuary near my end point.
My Dad's friend Ernie had agreed to join me for the next leg and that proved a huge help with the logistics. From Llanfachraeth it was back across the salt marshes and over the Stanley Embankment on to Holy Island. Holyhead has the slightly beat up, run down air of a "seen better days" port. We visited St Cybi's church with it's beautiful stained glass and then continued on past some splendid but ruined houses towards the looming hulk of Holyhead Mountain. The climb up and over North and South Stack was one of my favourite parts of the whole walk with the views of the coastline and the Lighthouses perched on tiny rocky outcrops it's a place with a real "end of the world" feel. We visited the well preserved hut circles at Ty Mawr before continuing onto my campsite at Anglesey Outdoors home of the excellent Paddler's Return bar where I wiled away a couple of very relaxed evenings over a few Purple Moose beers. It was also nice to be able to walk straight out of my (tent) door and onto the route the next morning. Treaddur Bay was a sprawling, linear town but I was too early for a bacon sandwich sadly so I pushed on along the coast until I reached the site of St Gwenfaen's Well, a Medieval site where the gift of two white pebbles is meant to heal mental illness. I was making good progress and it was a beautiful day so I decided to continue when I reached Fourmilebridge which led me back off Holy Island and push through to Rhosneigr. I had heard a lot about the town but wasn't particularly impressed on arrival, a little like Abersoch later on on my journey it seemed like a triumph of style over substance. The other side of Rhosneigr I came across two of the highlights of this section of the walk, the ancient burial chamber at Barclodiad Y Gawres, a huge tomb perched atop a cliff with splendid views and then St Cwyfan's Church, sitting neatly on it's little islet just off shore. Unfortunately the tide was high and I was unable to make my way out to visit this pretty little church in it's idyllic setting.
The next couple of stages saw me joined by Thalia and her sister, Heidi, which was great and we hired a static caravan and had the use of two cars which made the logistics a whole lot easier. Newborough Forest and Malltraeth Bay (with Llanddwyn Island) are one of my favourite parts of Anglesey and it was wonderful to share this beautiful nature reserve with Thalia. We had magnificent views of Snowdonia, sandy shores and watched a farmer round up his herd of semi-wild horses who galloped across the dunes towards the sound of his landrover's horn. I didn't really want to finish my Anglesey adventure but the next day was my last on the island and Heidi and Thalia joined me for the day. Much of it was spent along the edge of the Menai Strait with great views across the water to the mainland and plenty of Waders patrolling the seaweed fringed edges of the water. Eventually the Pont Britannia loomed into view with the incongruous statue of Nelson beneath it and with a little more effort we were soon back at Menai Bridge and tucking into a delicious Vegan Chocolate Brownie and a cup of strong coffee at Green Olive, a splendid and wholly vegan cafe in the heart of the town. Anglesey was a fantastic place to walk, the scenery was stirring, the wildlife wonderful, there was plenty of ancient history and I met some lovely people and discovered some cracking places to eat and drink as well as hearing Welsh spoken conversationally for the first time on my trip. If you would like to join us for the whole coastal path or even just a section or day walk, please drop us a line. I promise you won't regret it!