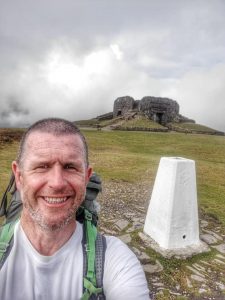 This was written a week or two ago and I then completely forgot to post it 😉
Well, it's 2022 and we are in the teeth of Storm Franklin, the third named storm to be battering Britain in the last week. It's been a pretty quiet Winter here at Come walk with me towers after all the exertions of the Land of My Fathers project which eventually ended up clocking in at over 1050 miles. I have been busy working back at Waterstone's over this period and planning plenty of adventures for 2022 as well as reading some excellent and inspiring outdoor literature by the likes of Nan Shepherd and Alistair Humphreys. I am also in the process of writing about my adventure a process nearly as challenging and tortuous as the expedition itself 🙂
We have a busy season ahead and a really nice variety of work lined up but we still have a few dates free so if you are keen to get out and do some exploring then please don't hesitate to get in touch. We are experts in walking in Wales, the Peak District and the Lake District and truly have an itinerary to satisfy any requirements. Some of the activities we have lined up this year include; the West Highland Way which has become a perennial favourite, and a new one this year as we work on the first half of the Scottish National Trail starting in the heart of Border country. We will be doing a lot of work with schools and young people on the Duke of Edinburgh programme which is always interesting as it takes us to places we might not necessarily visit and there is something particularly rewarding about working with young people in an outdoor environment, passing on new skills to them and watching them develop as individuals and members of a team. We will be working on the Yorkshire 3 Peaks, probably our favourite challenge event, running some wild camps in the Peak District and supporting charity treks in Yorkshire and Snowdonia. One of the most exciting aspects of 2022 though is that we will finally be able to start travelling again. Although our first trip of the year to Kenya was unfortunately cancelled we are excited to be heading back there in the Summer to take on Mount Kenya, the second highest peak in Africa, and also to be heading to Morocco in March for a much postponed event in aid of the Doddie Weir Foundation and run by Tribal Tracks. We are looking forward to partnerships with Camps International, School Camp, RAW Adventures, Carnegie Great Outdoors, Chase Training Solutions, Collette Travel, Entrust, Aim High Expeditions, Thistle Trekking and Tribal Tracks to name but a few and we hope to see you out on the hills or on one of our adventures in the very near future!