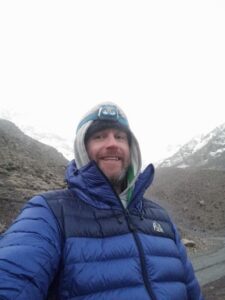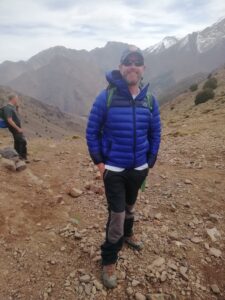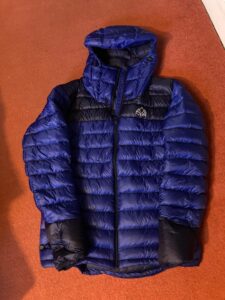 Manafacturer's page
It's reached the stage where I am heading rapidly into that zone where all my favourite bits of kit are starting to come to the end of their useful working life at the same time. Over the next few months this gives me plenty of opportunity to talk about the types of kit I use on my expeditions around the world and to hopefully help you out when you are looking to make similar choices. My old, gaffer tape patched down jacket had reached the end of it's natural life and looking for something new I came across the Fjern Arktis II, a brand, I must confess, I hadn't a great deal of prior knowledge about. The reviews looked really positive so I decided to take the plunge and see what "150 years of combined outdoor experience" had come up with!
First impressions were positive. The jacket looked great when it arrived, shallow I know, but it gave of the impression of being well made and the colour was bright and vibrant. Good looks are all well and good though but not much use if the product is below par so with a trip to the Moroccan High Atlas coming up and a couple of chilly evenings above 2000m looming I thought this was the ideal opportunity to try out the Arktis II in the field.
The jacket is filled with 750 fill power Goose down. It's hydrophobic down and the water resistant properties of the nylon outer proved more than adequate when I was caught out in a quick shower a few days before departure. The down is ethically sourced which is really important to us here at Come walk with me UK and the Down/Feather ratio is 95:5, crucial for ensuring maximum warmth. So, the tech spec is all tip top but how would it fare in the field. The simple answer is that it far exceeded my expectations. The cut of the jacket differed from my previous one and it instantly felt snug with a close fit that helped to trap a layer of warm air in. The same was true of the arms which seem a little longer than average, fitted snugly and with elasticated cuffs again helped to keep out the chill of an Atlas mountains night. The fleece lined pockets seemed like a real indulgence and were spacious with plenty of room to tuck in a pair of gloves, compass and folded map. There are also two huge inner pockets and a "net" style pocket that would easily house a map and doubles as a pouch to roll the jacket into so it can then be used as a pillow, very handy. The hood is adjustable and can be cinched in tight to help keep the wind out and there is ample room for it to fit over a beanie for added warmth. I have a bad habit of catching fabric in zips but the Arktis II seems immune from that particular problem and the zip ran nice and easily and was simlple to use even when wearing a pair of thin gloves. Overall I was very impressed with this jacket and it was perfect for the evenings in the Atlas where temperatures were down below zero. I tend to get hot when walking, especially on ascents, and I think that with this product I would probably only wear a base layer behind it on a long incline, it's that warm! It's always nice to come across a new company, particularly one with British origins and when it makes a great product like the Arktis II, that makes the experience even better. I have a few other items coming to the end of their natural lives as previously mentioned and hope that the replacements I come across will be as successful as this one!