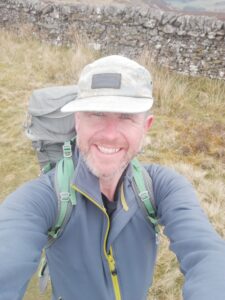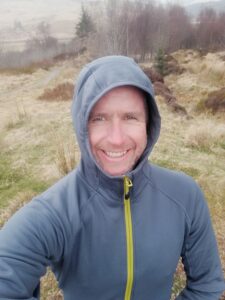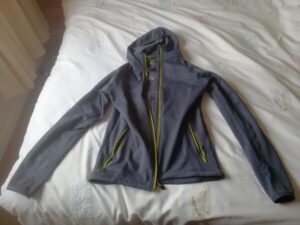 Well, it's time for one more kit review from my stash of Fjern kit. It looks, from the weather forecast that the Orkan is going to get a thorough workout on Snowdon tomorrow, but this is a review from the Scottish National Trail last week where my new Vandring Hoodie got plenty of use.
It is another impressive product and one that I am happy to recommend. As with the other Fjern products that I have used first impressions are very favourable with the top looking very stylish in it's muted tones. The cut and fit are snug, perhaps a little snugger than I am used to (maybe time to lay off the pork pies) but this makes the top very effective in a layering system and helps to make it very cosy on the top of a windswept moor. It is a longish fit, perfect for stopping the breeze blasting chill air up your back and the hood and cuffs fit closely making for a good choice on those days when a heavy jacket would be too much. It's marketed as a stretch hoodie and it definitely hits the mark on this point, the fabric stretches and moves with you which means it's very comfortable and would definitely be suitable for scrambling or activities where a bit of give would be useful. The pockets, as with the outer jackets, are capacious and lined for warmth and the zip which does up to chin height, is strong and sturdy and seems unlikely to fail. The first week of the Scottish National Trail where I trialled it out has some good, stiff climbs and the fabric proved pretty breathable in spite of the fleecy fabric, so I wasn't left drenched in sweat by the end of it.
All in all, it represents yet another great product from Fjern. It is great to support a GB based company making modern, stylish and affordable products for outdoor enthusiasts and with the Vandring hoodie I now have another piece of "must pack" kit when I am heading off again, for instance on the West Highland Way next week!!